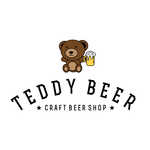 Teddy Beer - craft beer shop #2 taps
Address:
Ivan Aksakov str. 47 Varna

Phone:
+359882504235
Web:
FaceBook:
https://web.facebook.com/TeddyBeerShop/
Business Hours:
Monday : 10:30 - 20:00

◦

Tuesday : 10:30 - 20:00

◦

Wednesday : 10:30 - 20:00

◦

Thursday : 10:30 - 20:00

◦

Friday : 10:30 - 20:00

◦

Saturday : 11:30 - 18:00

◦

Sunday : -
About:
Teddy beer is a craft beer shop that offers a variety of beer styles and flavours. Craft beers from almost all Bulgarian micro breweries can be found here. To increase the variety and quality, we have selected different styles from some foreign craft breweries, as well. Tap craft beer can also be tried at the shop for the clients who are after a more social experience and would like to socialise with the locales or taken home.
Teddy beer е магазин за крафт бира, в който се предлага разнообразие от бирени стилове и вкусове . Тук е събрано занаятчийско пиво от почти всички български микро пивоварни. За да увеличим разнообразието от качествена бира, сме подбрали различни стилове от чуждестранни крафт пивоварни. Предлагаме и наливна бира, която можете да изпиете при нас или да отнесете вкъщи.
Extra:
Like / share Teddy Beer - craft beer shop :
Now onTap at Teddy Beer - craft beer shop :